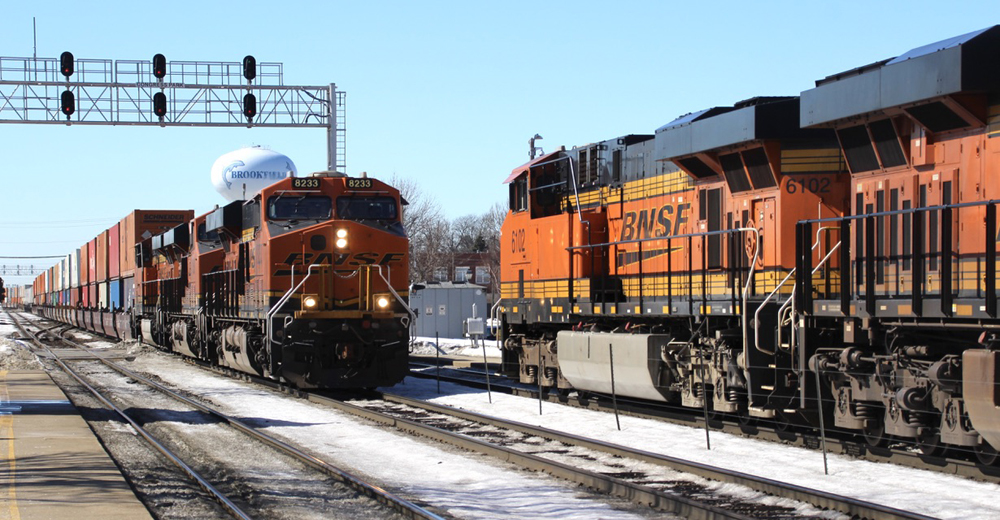 AAR report says rail shutdown would cost $2 billion a day
---
WASHINGTON — A report released today (Thursday, Sept. 8) by the railroad trade group, the Association of American Railroads, says a nationwide disruption to rail service could cost more than $2 billion a day.
The AAR says the report is based on historical data from the Federal Railroad Administration — specifically updating a 1992 study to quantify the impact of a nationwide rail closure on jobs and economic output in US dollars. 'today. It also outlines what it says the impact would be on manufacturers, distributors, retailers and consumers.
The AAR report comes as the railroads and unions continue to edge closer to a potential strike or lockout. A 30-day cooling-off period for negotiations — triggered by the release of recommendations from an emergency presidential council — ends at 12:01 a.m. EDT on September 16.
These recommendations included wage increases totaling 22% (24% compounded) over a five-year contract. Five of the 12 unions involved in negotiations over a new national contract have reached tentative agreements based on PEB recommendations – although none have yet been ratified. Negotiations took place on Thursday and are scheduled to be held again on Friday at the National Mediation Board in Washington.
But unions representing operating crews – the Brotherhood of Locomotive Engineers and Trainmen and the International Association of Sheet Metal, Air, Rail, and Transportation Workers-Transporation Division (SMART-TD) have indicated they are deeply concerned about work rules, working conditions as well as Pay. In a Labor Day statement, the leaders of these unions said that because of these rules, "members of BLET and SMART-TD are situated differently at this stage of negotiations than members of most other railway unions" [see "News report: Labor secretary joins rail negotiation session …," Trains News Wire, Sept. 8, 2022].
A statement from AAR CEO Ian Jefferies accompanying Thursday's report highlighted the wage increases offered to workers and called on Congress to enforce the PEB's work stoppage recommendations, "rewarding employees and ending unnecessary economic damage and uncertainty for rail customers".
The report says an additional 467,000 long-haul trucks would be needed each day to replace the more than 75,000 wagons and intermodal units – containers or trailers – that start a train journey on an average day. This overcapacity does not exist: the American Trucking Association claims that there is already a shortfall of around 80,000
The FRA's 1992 report concluded that a two-week national rail work stoppage would result in 570,000 layoffs in rail-served industries and $1 billion a day in lost production. The AAR report estimates that the financial cost could now be doubled but does not give any figures on possible job losses. It also outlines potential impacts on products ranging from food to automobiles, as well as the potential loss of power generation capacity resulting from a lack of coal.
The report also states that "a freight rail closure would devastate Amtrak operations just as ridership begins to return" and would "disrupt commuter rail service across the country."
In the last national rail shutdown – a 1992 strike against CSX by electricians that escalated into a nationwide lockout, ended by Congress after two days – Amtrak's national operations were indeed halted. , although Amtrak Northeast Corridor operations continued. But many commuter rail operations were also able to continue, even those involving operations on freight railways, by prior arrangement [see "The (In)visible Trains," Trains Magazine, September 1992, Page 6].