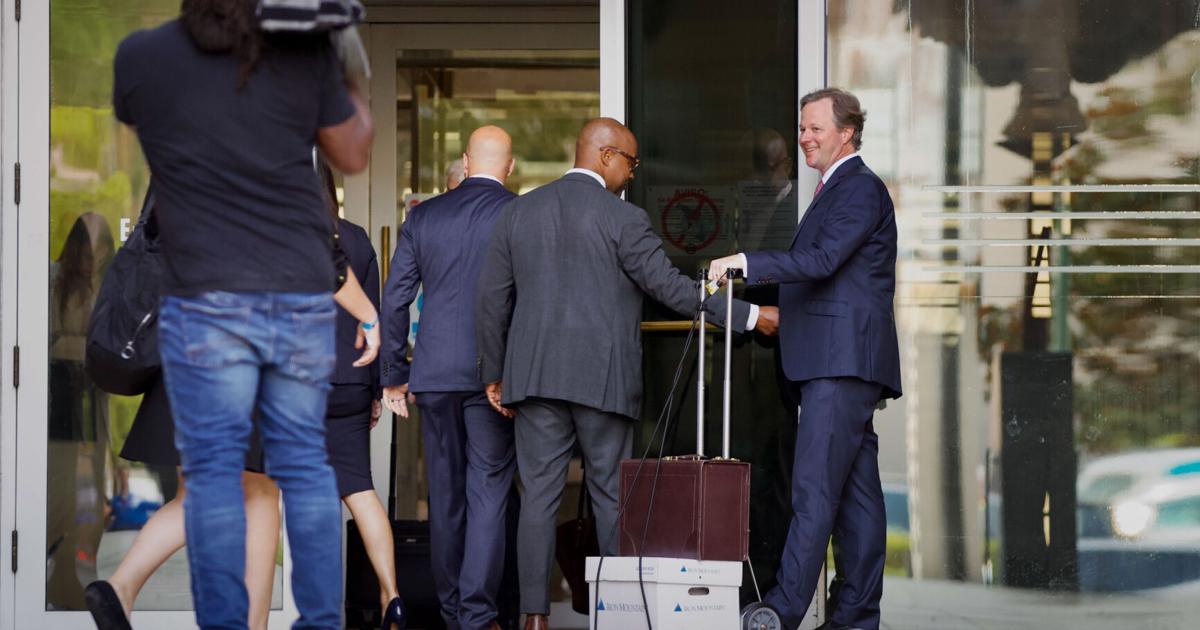 District Attorney Jason Williams failed to properly report cash payments, prosecutors say | Courts
Although they are not allowed to argue, Orleans Parish District Attorney Jason Williams has been selectively prosecuted in a federal tax evasion lawsuit alleging he stole more than $200,000 from the Internal Revenue Service defense attorneys repeatedly teased the idea on Monday, attempting to show that prosecutors were unfairly focused on their client.
Williams and his co-defendant, attorney Nicole Burdett, are accused of conspiring with admitted tax evader Henry Timothy to reduce Williams' tax burden by more than $200,000 over five years. Burdett is separately charged with reducing her tax liability by nearly $130,000 over four years.
Prosecutors allege the attorneys slashed their tax bills by disguising hundreds of thousands of dollars in personal expenses – including clothing purchases, dry cleaning, music streaming services, carnival fees and school fees for their children – as legitimate business expenses.
The 10-count indictment in which Williams and Burdett are charged also alleges that on four occasions the couple failed to complete proper government forms for cash payments of more than $10,000 each .
On Monday, Michael Magner, a defense attorney for Burdett, tried to argue that the IRS hadn't prosecuted anyone in the Eastern District of Louisiana for failing to file these forms in at least 50 years. But prosecutors quickly objected, and U.S. District Court Judge Lance Africk told jurors to put that remark out of their minds.
The uproar was a noisy moment in a rambling day that saw several witnesses called to testify, many of whom took the stand for less than 30 minutes. One was rejected before she was sworn in after a decision to exclude evidence rendered her testimony useless.
Theodore Vlahakis, a compliance officer with the U.S. Treasury Department's Financial Crimes Enforcement Network, described the four counts in which Williams and Burdett are accused of failing to complete proper forms for cash payments ranging from 11,116 $ to $15,000.
The form must be filed within 15 days of receiving cash payments over $10,000, he told jurors, and is used to help law enforcement officers track the flow of cases. money and to detect financial crimes.
IRS Special Agent Timothy Moore, who led the investigation into Williams and Burdett, said he confirmed that money had in fact been paid in those cases and that attorneys had not completed the forms.
But defense attorneys said that in at least two of those four cases, the client who paid in cash was a client of Robert Hjortsberg, an attorney who had worked in Williams' private practice and who in March pleaded guilty to a single count of willful misdemeanor. failure to file a federal tax return – a charge stemming from the Williams and Burdett investigation.
Outlining Hjortsberg's contract with Williams' firm, defense attorney Billy Gibbens detailed a cost-sharing agreement in which the firm was only entitled to 33% of fees collected from Hjortsberg's criminal clients, arguing that this amount was less than the $10,000 that would have required these forms to be completed.
But Moore disagreed: For tax purposes, he testified, Hjortsberg's customers were the company's customers, and it was she, not Hjortsberg, who was responsible for filling out the forms.
Prosecutors had announced last week that they intended to call Hjortsberg to testify in the witness box. But as of Monday evening, it appeared that they would not call him after all.
On Monday, prosecutors also called Colette Raphel, registrar of Tulane University, where Williams attended law school, to the witness stand. After reviewing Williams' school transcripts, Raphel said Williams took only one four-hour tax credit course in 1996.
Initially, Africk ruled that prosecutors could only reveal whether Williams passed or failed the course. But then defense attorneys asked Raphel for permission to share Williams' note.
"What did Mr. Williams get in that class?" Gibbens asked.
Raphel replied that he had earned a "C".