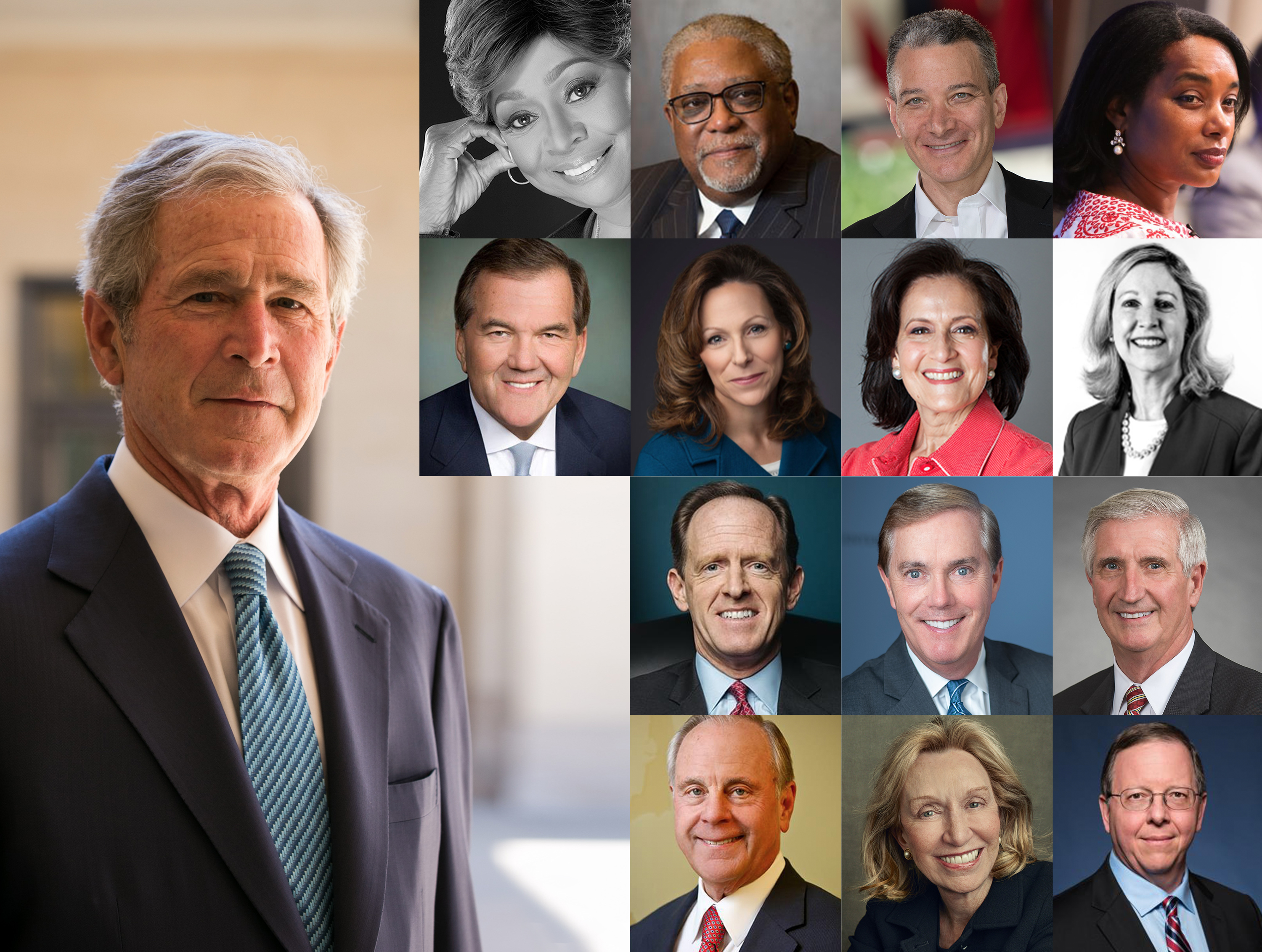 JES Global Summit XIII: hard-working, intriguing and in person
Photos contributed
The Jefferson Educational Society's World Summit XIII will feature an impressive number of guest speakers, highlighted by former US President George W. Bush on Tuesday, November 9. Also in attendance (top row, left to right) Clayola Brown, DeWitt Walton, Jeffrey Rosen, Camille Busette, (second row, left to right) Tom Ridge, Stacy Cordery, Anita McBride, Barbara Perry, (third row, left to right) Pat Toomey, Steve Scully, Andrew Card, (fourth row, left to right)) Mack McLarty, Doris Kearns Goodwin and Robert Pape.
After an extremely exhausting and disappointing year 2020, there is nothing else to look at than the future.
This is doubly true for the team at the Jefferson Educational Society, where the 2020 World Summit was canceled and the previous 2021 event was held virtually. However, all of the 2020 lineup has agreed to maintain its commitments with JES, and the nonprofit think tank is now proud to present Global Summit XIII, chaired by keynote speaker, President George W. Bush. .
"It's been so long since we've been able to see our audience in person; we miss them very much," said Ferki Ferati, Ph.D., president of the Jefferson Educational Society. He continued, "We are an organization whose goal is to bring people together, and not being able to do that because of COVID-19 was extremely difficult. We were successful in providing them with content online, but seeing them in person. is much more satisfying. "
And while the JES looks forward to returning to programming in person, its illustrious lineup of speakers, panelists, moderators and presenters all speak about the direction of the country and our small town within it.
This is underlined by the keynote speaker, George W. Bush – a polarizing and very influential figure. Bush, along with US Senator Pat Toomey (R-Pa.) And former Pennsylvania Governor Tom Ridge, will comment on the state of the nation today and how we can overcome the threats we face. Ferati hopes that "the public will come with an open mind to learn the different perspectives on how to approach these issues." Of course, the threat of COVID is far from over, but according to Ferati, safety has always been the biggest concern in bringing the public back.
"We know from our research that the vast majority of our public is vaccinated," Ferati said. "Until otherwise recommended by the CDC, anyone attending our events will provide either a vaccination record or a negative test."
For the full JES COVID policy, you can visit their website at jeserie.org/about/covid-policy
Monday November 1st // 7:30 p.m.
Clayola Brown and DeWitt Walton: The Impact of Systemic Racism in Communities of Color
Clayola Brown is a leading voice in civil rights activism as president of the A. Philip Randolph Institute in Washington, DC, which contributes to the AFL-CIO organization 'The Union Bridge to Diverse Communities, creating and strengthening partnerships to improve living standards for all workers and their families.
Originally from Charleston, South Carolina, Brown spent 17 years winning a union contract for employees at textile giant JP Stevens, and continued to lead, organize and inspire over the next four decades.
According to JES, Brown will "discuss the impact of systemic racism in communities of color," in a talk to be moderated by DeWitt Walton, Allegheny County District 10 Council Representative and Vice President of Pittsburgh A. Philip Randolph Institute.
Wednesday Nov. 3 // 7:30 p.m.
Jeffrey Rosen: An Evening with Jeffrey Rosen
Professor of Law at George Washington University, President and CEO of the National Constitution Center and Editor-in-Chief of Atlantic, Jeffrey Rosen has also published six books, including (Conversations with RBG: Justice Ruth Bader Ginsburg on Life, Liberty, and Law.)
Rosen will bring his in-depth knowledge of the Supreme Court (he has personally interviewed several judges), White House politics and constitutional law to World Summit XIII and will provide insight that only "the most widely read and influential legal commentator of the country "can do it.
Thursday November 4 // 7:30 p.m.
Camille Busette: The Power of Political Reform to Address Racial Justice in Erie
Camille Busette, Ph.D., has worked for years to address income inequality in communities of color throughout her career, and more specifically now, as a Senior Fellow at the Brookings Institution, where she has led the Race, Prosperity, and Inclusion organization. initiative.
Dr Busette returns to JES with a discussion of how policies currently being written, in cities like Erie and other places of comparable size, breed racial inequalities, as well as how these policies have been and are being addressed. .
Monday November 8 // 7:30 p.m.
Barbara Perry, Stacy Cordery and Anita McBride: The Story and Role of the First Ladies
Each panelist in this discussion of First Ladies, an ever-growing influential and inspirational role, brings a long history of study and insight into the women who have stood – some more daringly than others – next to them. men who become Commander-in-Chief.
Barbara Perry, Stacy Cordery and Anita McBride each have close connections to the lives of some of the country's most visible women, from multitudes of talks with presidential insiders (Perry) to years of research and studies (Cordery) or direct work access with presidential staff and first ladies (McBride).
To make this insightful panel even better, Steve Scully, a native of Erie and former broadcaster with C-SPAN, and the current Senior Vice President of Communications with the Bipartisan Policy Center, will be moderator.
Tuesday November 9 // 7:30 p.m.
George W. Bush: An Evening with President George W. Bush
Bayfront Convention Center, 1 Sassafras Pier
The illustrious keynote speaker of Summit XIII, the life of George W. Bush has been politically charged from birth.
Son of George HW Bush, Vice President of Ronald Reagan and 41st President of our country, GWB became the 43rd President of the United States from 2001 to 2009.
During his tenure, the world changed dramatically; from the terrorist attacks of September 11 to the rapidly changing digital and technological revolution, Bush has led the country with his wife Laura's constant presence by his side, while raising two college-aged daughters.
After his tenure as arguably the most powerful man in the world, Bush retired to pursue major philanthropic efforts, write four books, and enjoy grandparenthood.
His remarks will be preceded by both former Pennsylvania Governor Tom Ridge, First Secretary of Homeland Security and native son of Erie, as well as US Senator Pat Toomey.
Steve Scully (longtime C-SPAN host who now works with the Bipartisan Policy Center and chair of the World Summit) will host the program.
Wednesday 10 Nov // 7:30 p.m.
Andrew Card and Mack McLarty: A Conversation with Former White House Chiefs of Staff
The president's chief of staff wears several hats – just ask Andrew Card and Mack McLarty, who served under George W. Bush and Bill Clinton respectively.
Card became a visible figure in the American landscape when he briefed President Bush on the terrorist attacks on the World Trade Center buildings on the morning of September 11, 2001. A politician and administrator, he served in the Bush administration for three years before being promoted to chief of staff.
Thomas F. "Mack" McLarty has had a distinguished career as, among other things, CEO of Arkla, a natural gas company. He entered politics in the first Bush administration before moving to the Clinton administration – a natural change, as it turned out McLarty and Clinton had known each other from kindergarten.
Join these two, also hosted by Steve Scully, as they recount the challenges (and, hopefully, some triumphs) of advising two of the world's most influential and powerful men.
Thursday November 11 // 7:30 p.m..
Doris Kearns Goodwin: The New Deal for Big Society: FDR and LBJ
A die-hard Red Sox fan, Ph.D. holder and Pulitzer Prize-winning author Doris Kearns Goodwin combines the down-to-earth with aspiration.
A White House Fellow during Lyndon B. Johnson's administration, Kearns tackled issues of poverty, before continuing to teach at her alma mater, Harvard, and later to help Johnson write his memoir.
His entry into the literary world, a biography of LBJ, was joined by several other books, including that of 2018 Leadership in times of turbulence, work that promotes the idea that men and women in leadership often go a long way to reach the point of influence, and that below the surface they are all as human as any of us.
Kearns' unique first-hand experience of one of the most influential political leaders of all time also gives her special insight into bringing more women into leadership positions.
Friday November 12 // 7:30 p.m.
Robert Pape: Holding the Line: Political Violence in America and the Implications for Democracy
What is the role of violence in the political arena? After all, this country was only founded after waging a bloody five-year war with Britain.
If anyone has any answers, it's Robert Pape, this year's Thomas B. Hagen Dignitas Award winner and a longtime researcher of "the effectiveness of economic sanctions, humanitarian intervention policy, US-China relations and grand US strategy, "according to World Summit XIII press documents.
Pope will present his discussion of the place of violence in American democracy, drawing on his decades of research and first-hand experience. Pope is currently based at the University of Chicago, although he is from our little corner of the world, Erie, Pennsylvania.
All events start at 7:30 pm // See the JES website at jeserie.org/global-summit for a list of events, including individual locations // Adult tickets: $ 35; VIP tickets: $ 60; Adult pass: $ 150; VIP pass: $ 300; see the JES online brochure at jeserie.org for all ticket options, including early bird rates and special event rates for the keynote speaker