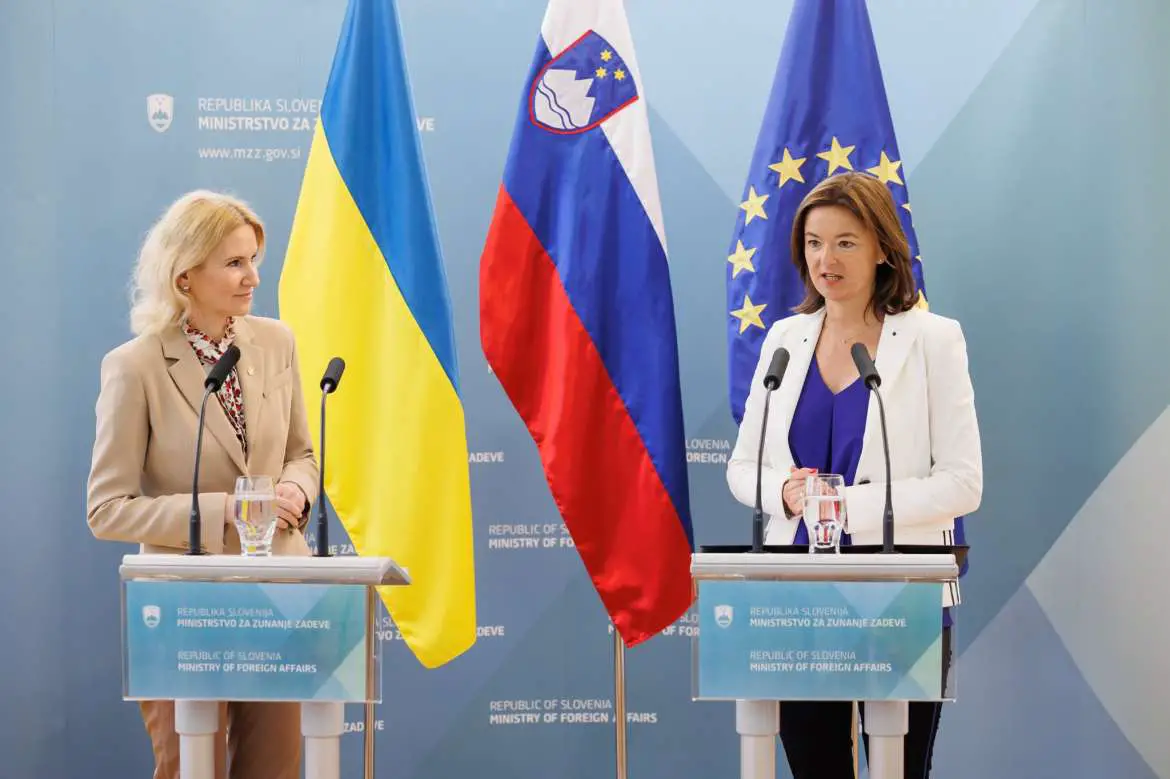 Slovenia stresses its support for Ukraine's EU accession efforts
STA, June 7, 2022 – Ukrainian Parliament Deputy Speaker Olena Kondratiuk thanked Slovenia for its support for Ukraine as she spoke to the press with Foreign Minister Tanja Fajon in Ljubljana on Tuesday. Fajon said that Slovenia will also support Ukraine in its efforts to join the EU and announced that the Slovenian ambassador will return to Kyiv next Tuesday.
Fajon expressed his full support for Ukraine, stressed that Slovenia condemns Russia's aggression and also called for an independent international investigation into human rights violations in Ukraine.
She added that she and Kondratiuk also discussed Ukraine's EU accession process.
"Slovenia supports a clear European perspective for Ukraine, but in this process we must preserve the sensitivity of the EU enlargement process itself and the accession perspective of the Western Balkan countries," said Fajon.
She added that the road would not be easy, but the minister and Kondratiuk pledged to "do everything in our power to help Ukraine on its way to EU membership."
Fajon added that the ministry set up a special task force this week to provide assistance and support to Ukraine in various areas.
She announced that Slovenia's ambassador to Ukraine, Tomaž Mencin, who retreated to Rzeszow, Poland at the start of the Russian invasion, would return to Kyiv on Tuesday.
Kondratiuk thanked Slovenia for all its aid – humanitarian, military and economic – and for its clear condemnation of Russian aggression.
She said the talks had been positive and congratulated Fajon and the new Slovenian government on their electoral success.
She underlined that obtaining EU candidate status is of the utmost importance for Ukraine and thanked Slovenia for its support.
The speaker also said that Ukraine supports the accession of the Western Balkan countries to the EU, because, according to her, any enlargement of the bloc is positive.
Kondratiuk noted that Ukraine is aware that a lot of hard work and a long road awaits it to become a full member of the EU.
However, Ukraine is ready – it has completed two questionnaires with the European Commission, which was satisfied with the answers, she said.
I can confirm that Ukraine has met 65% of the requirements for EU candidate status, Kondratiuk added.
Brussels and some member states have warned there can be no shortcuts to joining the EU. Some Western Balkan countries have been waiting for candidate status for years.
Kondratiuk argued that candidate status for Ukraine would be a significant victory against Russian President Vladimir Putin and a show of united support for Ukraine's EU membership.
She stressed that Ukraine had not denied the Western Balkan countries' efforts to join the EU, but that Ukraine would "go its own way".
Fajon added that she was aware of the great symbolic importance of candidate status for Ukraine. "We will work for Slovenia to support candidate status as soon as possible, but respecting the criteria and benchmarks of course remains crucial," the foreign minister said.
Kondratiuk was also received by President Borut Pahor, President of the National Assembly Urška Klakočar Zupančič and President of the National Council Alojz Kovšca, and met with members of the parliamentary committees responsible for foreign policy, European affairs and defense.
Klakočar Zupančič said in a statement after the meeting that Slovenia was united in its support for Ukraine and its condemnation of Russian aggression in the country, noting that Slovenia had taken in many refugees from Ukraine and provided aid. humanitarian.
The couple also discussed Ukraine's efforts to join the EU, with Kondratiuk once again thanking Slovenia for all the help and support, noting that Ukraine wanted and was striving to achieve EU status. candidate at the next EU summit at the end of June.
The Deputy Speaker of the Ukrainian Parliament took note of the statement of the Slovenian Parliament officially condemning the Russian aggression in Ukraine.
She said she proposed to Klakočar Zupančič that a similar new resolution be adopted to "condemn the genocide committed by Russia against the Ukrainian people", which has already been done by several countries.
Kondratiuk again called for military support and other forms of assistance, especially expert support from Slovenia to rebuild Ukraine's infrastructure after the end of the war. She also invited the Speaker of the Slovenian Parliament to visit Ukraine.